Date:

Friday, December 12, 2014
Location:
National Hardwood Lumber Association headquarters
Raleigh Lagrange Rd, Memphis, TN 38134
Phone: (901) 377-1818
Brought to you by:
The Federal State Market Improvement Program (FSMIP) at USDA
The Center for Forest Products Business at Virginia Tech
The National Hardwood Lumber Association (NHLA)
 Overview
With  $123.78 billion in shipments in 2011 and more than 710.7 thousand workers, the wood products industry in the United States has become an important link in the economy of the country. Today the industry has suffered many drastic changes due to the rapidly increasing global competition that has pushed the local industry to look for different ways to remain competitive. Manufacturing cost issues, lack of innovation, and poor understanding of customer needs remain as the biggest challenges that the wood products industry still is trying to address and in the last 10 years, other issues have arisen such as logistics costs, lead times, product customization, forest certification, and information technologies.
With this context in mind, today's wood products companies should be very careful when developing new markets, especially if these new markets are international. Certain European and Asian markets are more receptive to US wood products because there is a reputation of sustainability attached to the product. Also, US wood products offer uniqueness in terms of attractive aesthetics, supply chain reliability, and high quality standards.
Who

 Should Attend?
Sales Managers, Export Sales Managers, Sale Representatives
General Managers, Plant Managers, Purchasing Managers, Materials Planning Managers, Marketing Directors, Product Managers, Plant Supervisors
Employees with responsibilities in Marketing that would like to increase their knowledge of the current situation for US Wood products in international markets
Owners and managers of Small and Medium Enterprises in wood products industries
Personnel related to local organizations that support development of new market opportunities for wood products industries
Independent consultants and academicians who are interested in updating their knowledge in international marketing for US Wood products
Why You Should Attend?
Understand the basics of marketing in a wood products organization
Apply basic marketing tools to turn an idea into a commercially successful product
Obtain recent marketing intelligence information on specific global markets
Explore potential opportunities to export to Central America
Understand the basics issues of supply chain management involved in international trade
Agenda: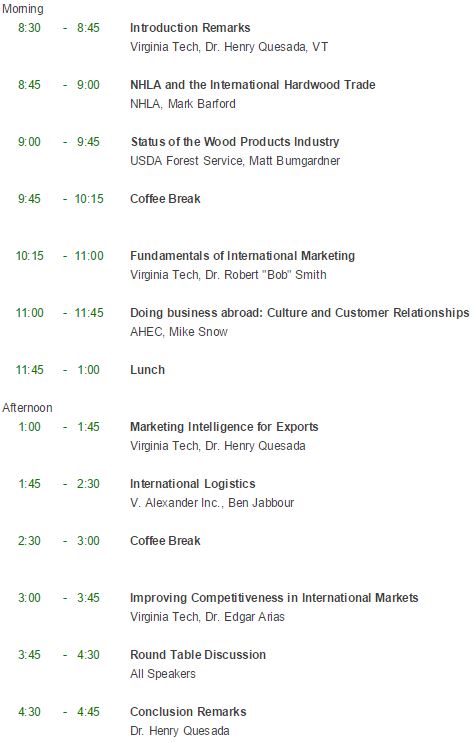 Registration:
Investment: $250.00
Investment covers workshop materials, coffee breaks, and lunch
Registration Link: International Marketing for Forest Products Companies Workshop
For more information on this workshop contact:
Becky Miller, b.miller@nhla.com. NHLA
Edgar Arias, earias@vt.edu. Virginia Tech