BLACKSBURG, VA. Business Process Management (BPM) is an initiative to orchestrate all processes in an organization. As business organizations compete and become innovators, a higher level of coordination between primary and supporting processes is necessary for the organization to achieve their goals. BPM foundation is the realization and understanding that any organization is composed of processes that are grouped in value chains and those value chains need to be continuously improved using known methodologies such as lean thinking or six sigma. Once the processes are organized and improved, an information technology solution can be incorporated to automate, synchronize, control, and manage the work flow among the processes.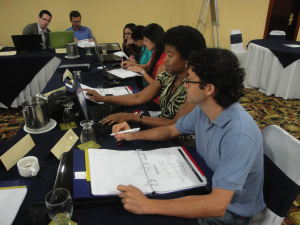 During July 26-27, 2012 assistant professor Henry Quesada, from the Department of Sustainable Biomaterials (SBIO) at Virginia Tech, delivered a BPM workshop in San Jose, Costa Rica. A total of 19 people registered for the event, which was organized in conjunction with Costa Rica Tech. This is part of the efforts of SBIO to impact the international community in topics related to sustainable enterprises.
Participants in the workshop learned how to recognize business processes and how to develop a business architecture. Next, participants were introduced to the most important continuous improvement methodologies and they also learned how to model a process using the BPM notation (BPMN 2.0). Finally, a procedure to deploy a BPM initiative was presented through examples and case studies. A variety of teaching methods were used such as teamwork games, business simulations, online delivery, experiential learning, and face-to-face delivery.
If you are interested in learning more about BPM and how it can help your organization to become more competitive, please contact Dr. Henry Quesada at quesada@vt.edu.