By Scott Lyon, Graduate Student. March 25, 2010.
The potential for US forest products in international markets such as Central America has not been historically addressed. With a combined population of more than 40 million residents, Central America offers many business opportunities for US hardwood and softwood lumber producers. Our effort will focus on the most important economies in Central America: Costa Rica, El Salvador, Guatemala, Honduras, Nicaragua and Panama. We believe that the increased rates of housing, tourism infrastructure, and public infrastructure will need a massive supply of hardwood and softwood lumber that the region itself will not be able to fulfill in the near future. Also, we have found that local protectionism policies in favor of the national forests of these countries would benefit the imports of wood products, especially from the United States. The concern of harvesting tropical forests also provides an opportunity to increase sales of US temperate species. Our goal is to create an export handbook of Central America for Virginia wood products industries.
During the first six months of the project, the research team conducted a literature review and face-to-face interviews with governmental officials in Panama and Costa Rica to determine the current demand of local production, the potential for future production, and any trade barriers for new importers.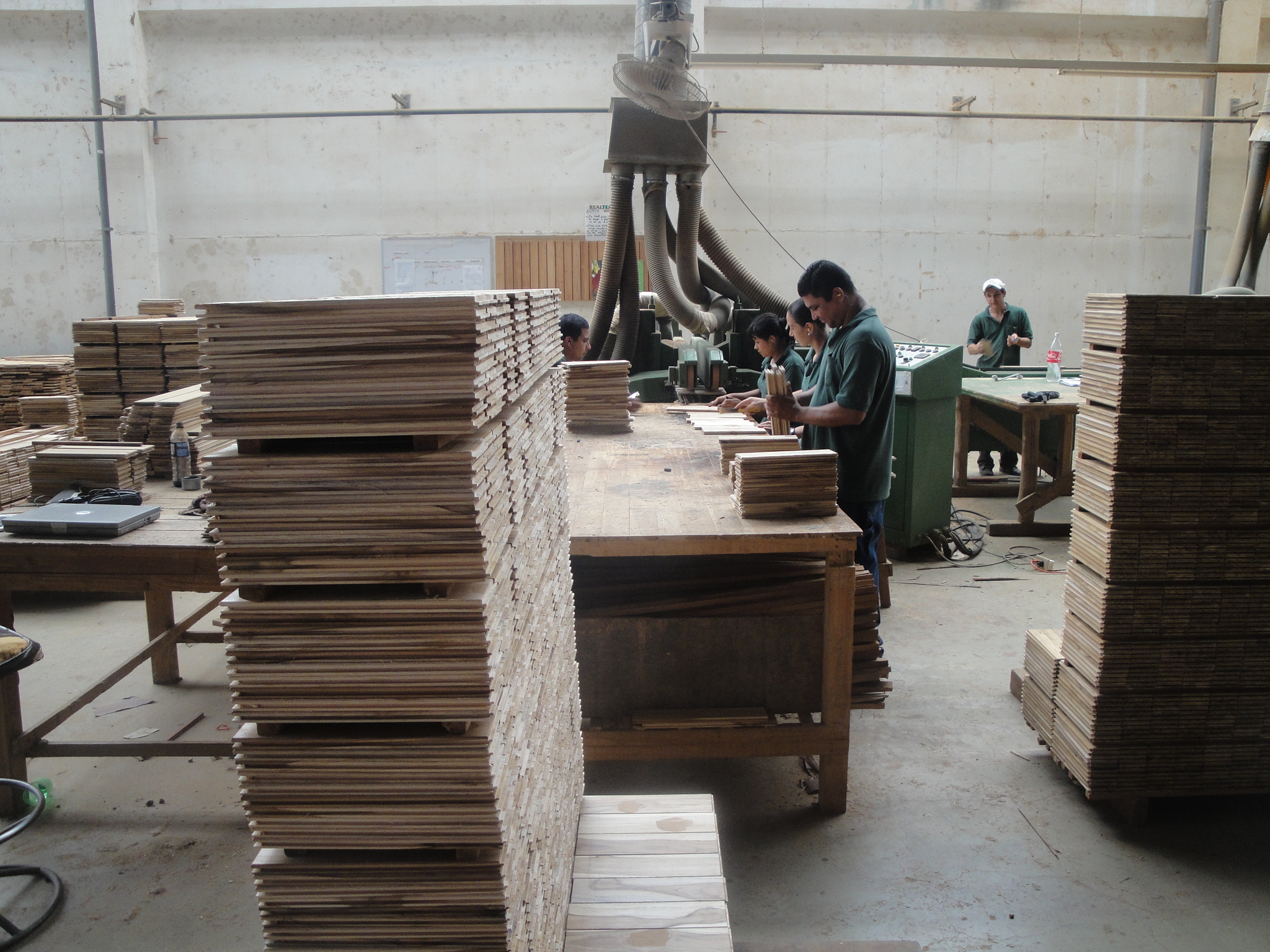 Visit to Panamerican Woods, a tropical hardwood flooring manufacturing site in Costa Rica Also, forest product companies were interviewed to learn more about their suppliers of raw materials and to determine the end use of their products. It was discovered that there is a need for Southern-Yellow-Pine lumber, plywood and oriented strand board to help in construction of homes and buildings. Many of the forest product companies interviewed were familiar with Appalachian hardwoods. Appalachian hardwoods can be used in doors, mouldings, cabinets, furniture, flooring and ceiling panels. The end users are looking for a dark color in hardwoods such as black walnut and black cherry. Light color species are found in many kitchen cabinets since customers can easily match appliances and other kitchen items to them. Appalachian hardwoods such as hard maple, soft maple, red oak, and beech would match these color specifications. Certified forest products are not generally considered by the customer when purchasing wood products. The customer primarily looks at price and quality of product. From the interviews we determined that United States companies have not called or visited Panamanian and Costa Rican forest product companies in the past. United States forest product companies need to teach Central American engineers and architects about the construction principles of wood. In the same trip to the Region, the research group presented a workshop titled Wood in Costa Rica: Opportunities and Threats in a New Millennium at the Technology Institute of Costa Rica where the most current research findings in Panama and Costa Rica were discussed. The audience gave positive feedback and also some ideas on how to market forest products to Costa Rica.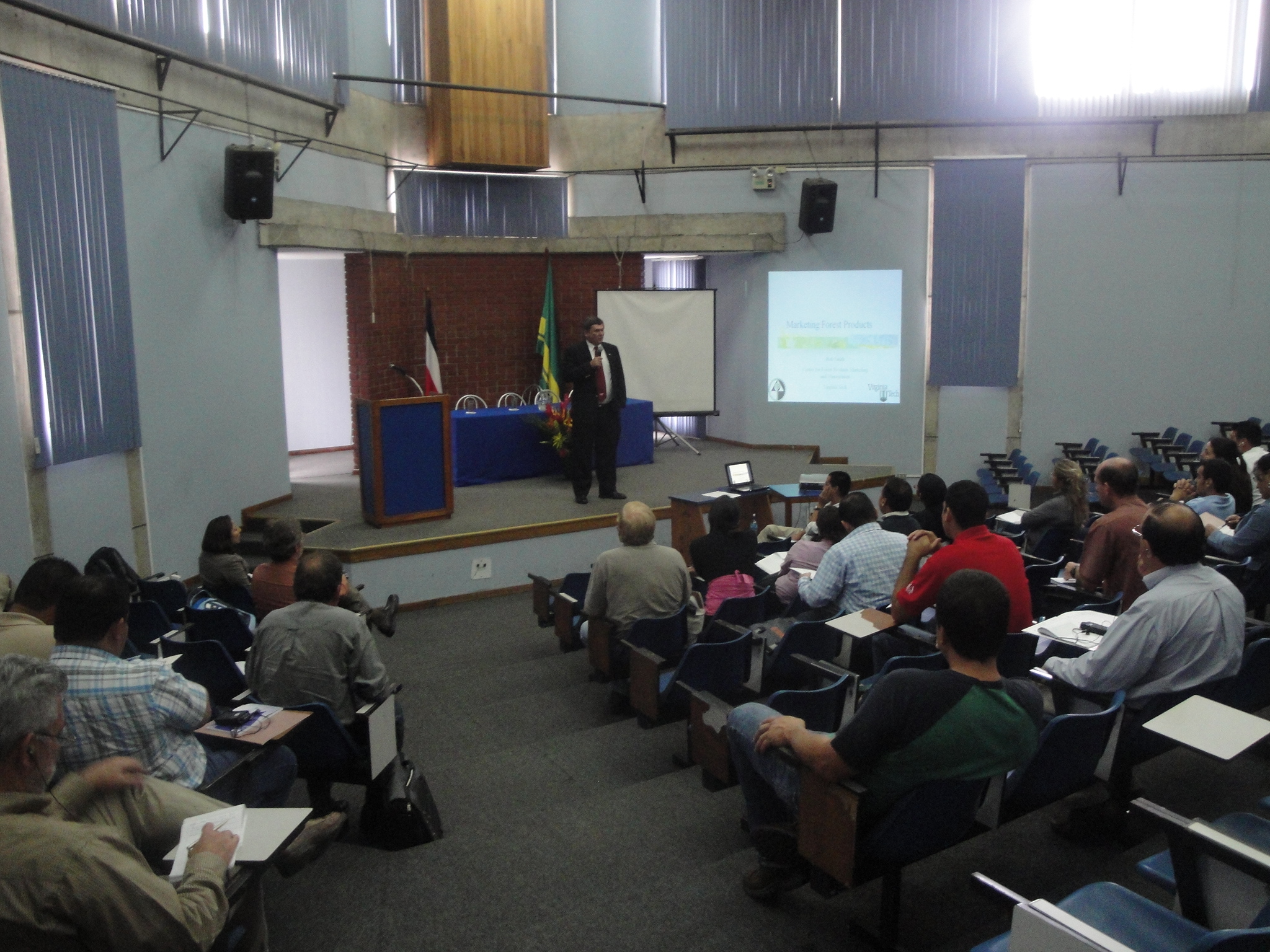 In the next six months it is planned to travel to Guatemala and El Salvador to meet with governmental agencies and forest product companies to add to the information we collected in Panama and Costa Rica and the contracted survey will be conducted to a representative sample of wood product retailers, architects, and end users throughout Central America to gain more information on opportunities for Virginia forest product companies. It is also in the horizon to continue the secondary resource research to assess the markets in Central America.
The research team will be presenting results some of the findings at the Forest Product Society 64th International Convention in Madison, Wisconsin this upcoming June.