by Melissa Brenes, MS candidate, mbrenes@vt.edu
Recognize characteristics of clients such as where they live, their behavior, and their preferences on stores has become a necessity for companies now a days. (Badea, R. Bagu, C. Badea, A & Moises, C., 2009). Knowing that such characteristics of customers are so significant for the business, it is important to accelerate processes such as customer profiling, and profile behavior which will give the corporation a competitive advantage.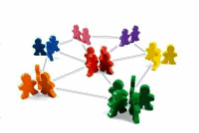 By combining conventional marketing techniques with geospatial methods enables users to picture the spatial distribution of data in maps -such as the distribution process, the market diverse- also complementing it with statistical graphs and diagrams will link  marketing and Geographical Information Systems (GIS). (Musyoka, S.M, Mutyauvyu S.M, Kiema J.B.K, Karanja F.N,  & Diriba D.N. , 2007).
With GIS Business Analysis users can better understand their organization environment information, the competition, and also improve the decision making process related to customer behavior. In addition, business analysis can build models that fit into the organization's analysis workflow for site evaluation, market penetration, and conduct customer prospecting. (Raduj, C. 2009).
According to (Lawrence E., 2007) faculty and leaders of colleges of business apparently are not aware of GIS and its capability in helping make solid immediate business decisions, regarding site analysis, and spatial management of business activities. In a research conduct by Lawrence (2007), only 5 of 140 colleges of business have GIS courses in their curricula and just 23 of these have courses included spatial analysis. On 2007, only few curricula's include GIS analysis as an effective business decision-making tool.
There is much work to be done not only in the academic collaborations of colleagues of business and geographic departments  in helping companies to embrace the GIS as a effective way of making decisions, develop marketing strategies, and gaining a competitive advantage in their industry sector.
References
Raduj, C. (2009) The GIS and data solutions for advanced business analysis. Economia, Seria Management. Vol. 12, No. 2, 2009.
Badea, R. Bagu, C. Badea, A & Moises, C. (2009) Costumer Profiling Using GIS. International DAAAM Symposium, Vol. 20, No. 1, 2009.
Musyoka, S.M, Mutyauvyu S.M, Kiema J.B.K, Karanja F.N,  & Diriba D.N.  (2007). Market segmentation using geographic information systems (GIS). Marketing Intelligence & Planning. Vol. 25, No. 6, 2007.
Lawrence E. (2007). GIS and Collegues of Business: A curricular Exploration. Journal of Real Estate Literature. Vol. 15, No. 3, 2007